WakaWaka Solar Lights – Light to do homework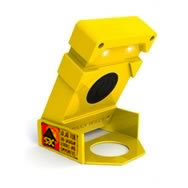 Give a child 3 years of light, to be able to study and do homework! In Africa children do their homework by the light of a kerosene lamp. Kerosene is dangerous, toxic and expensive. With less than one day of sunlight Wakawaka light gives 16 hours of light for reading. So the children always have light. Buy a Wakawaka light for € 18.50 via our webshop and give the children and their family light in their lives.
Wakawaka light is a Dutch design.
Click here for more information.